PROJECT
Normandy Control Group offers a wide range of control command systems using the latest technologies. These new solutions offer optimal and reliable control, the opportunity of setting up remote supervision and an easier using for customers.
Replacing an old control command system, either old-generation hydraulic or electronic, with new-generation equipment has many advantages, particularly in terms of reliability, timeliness of the response, precision of adjustments and reduction in maintenance costs.
Modernizing steam turbines, gas turbines, diesel engines and gas engines with new systems gives you more flexible control and easier operation for your engines.
For more information, please view our product pages or contact us.

Why modernizing?
One-day stoppage of our engine causes a loss in your annual income.
Thanks to modernization and reliability of your systems, you will get a reduction in annual maintenance time that leads you to a gain in productivity.
Treatment of the risk of obsolescence of components and / or products
Reliability of operations and control, obsolete equipment generally has degraded performance
Reduced time and frequency of maintenance operations
Operate in complete safety with an optimal energy balance, regardless of your production capacity
Centralize, interface, and visualize data from auxiliary equipment such as control, vibration, security, and automation.
We take care of everything for you:
On-site audit
– List of on-site equipment as well as operating procedures and customer needs
Pre-study
– Provision of a comprehensive technical notice on an operating and equipment proposal accompanied by a budget offer
Study
Complete project management
– Supply,
– Electrical and mechanical study,
– Subcontracting and / or co-contracting management,
– Software development and automation development,
– Platform tests
On-site installation
Tests
Commissioning
Training
MODERNIZING IS REDUCING COSTS AND INCREASING PRODUCTIVITY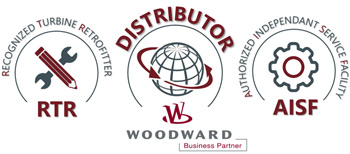 Woodward Accreditation
NCG is recognized and certified by Woodward as a specialist in upgrades and modernization of control command systems for engines or turbines using innovative technologies. Our team can manage your projects, train your teams, repair your equipment, and assist you on your sites.