NCG has been French UTO qualified since 2015 and has been working from the beginning in the nuclear power sector at all power plants in France, on a large number of areas (1450 MW, 1300 MW, 900 MW, EPR, DUS, GUS).
of the French Nuclear Power Plant is assisted by NCG
Our teams works in CAS 1 on EDF nuclear plant thanks to the expert specialised skills of our teams and our documented log system providing quality assurance adapted to the most rigorous standards in the industry. In addition to technical assistance, we are qualified for the expertise and repair of equipement on a large number of areas.
Proof of this unfailing commitment: the EDF dedicated hotline allows us to mobilise our staff 24/7.
In addition to on-site interventions and workshop overhauls, every year NCG trains nuclear industry technicians in speed control of rotating machines.
Thanks to the trust granted by our customer EDF, we work on the mechanical and electronic speed control of emergency diesel engines, turboalternors and turbopumps in the following areas: 1450 MW, 1300 MW, 900 MW, EPR, DUS, and GUS.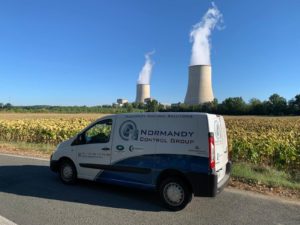 Nuclear Power Sector :
a safety protocol to assist our customers
Discover our nuclear interventions with a guaranteed quality service thanks to our qualifications and nuclear safety experience and know-how.