What is standard exchange ?
You need to overhaul your governor but do not have a spare equipment?
With our standard exchange program, we give you an immediate solution to make it easier for you. We provide you a reconditioned equipment within 48 hours.
What is a reconditioned equipment?
In an eco-responsible approach, we recondition your mechanical speed regulation equipment.
Reconditioned equipments may have already been used, or not. In our workshop, we give them a second life.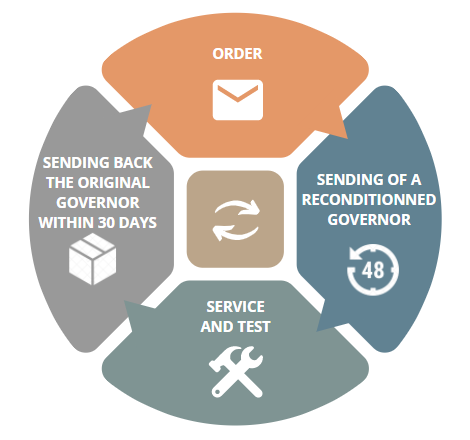 How are the products reconditioned?
At NCG offices, reconditioned equipments follow a very strict procedure in order to guarantee high quality and a compliance with manufacturers requirements (Woodward, Heinzmann, Regulateurs Europa).
Our standard exchange program
Our service allows us to offer to our customers an economical solution that gives them the greatest responsiveness as possible. By carrying out this eco-responsible approach together, we are ensuring the preservation of the environment and limiting the production of waste.
A 48-hour delivery for the provision of equipment

A 30 day governor return policy

A best price guarantee
Equipment guaranteed for 2 years parts and labour
Limitation on the impact on the environment