VariStroke is Woodward's line of linear electro-hydraulic valve actuators for operation of steam or hydro turbine control valves. They ensure the well functioning of the steam turbine , hydraulic turbine control or control valves in general. These linear actuators use a low pressure oil supply to generate an output force from the cylinder.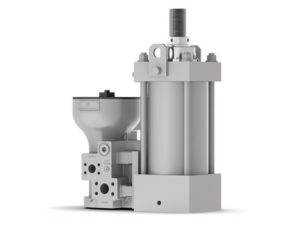 Thanks to its precision and high positioning resolution, it is ideal for direct control of steam turbine valves, including turbine speed and load. Its electronic module accepts one or two 4 – 20 mA position request signals (redundant) to position the valve control, as well as two redundant position feedbacks.
No special filtration required
No need for dedicated oil center (use of the machine's lubrification circuit)
Cost reduction of a non-integrated servo distributor system
Cost reduction of a non-integrated pilot system
Reduction of engineering costs with a fully integrated system
Reduction in storage costs for various square parts (filters, oil pumps, pilot valves, position feedback, servo-distributor, etc…).
Reduction of installation costs
Reduction of testing and commissioning costs
Reduction of maintenance costs
Reduction of turbine trips linked to polluted oils
Reduction of turbine trips linked to significant load variations
Energy saving on the supply of an auxiliary oil plant and its refrigeration
3 years warranty Wooward equipement
Affected systems:
Any hydraulic control system of inlet valves can be replaced by our VariStroke systems, whether it is an ATEX zone or not.
Allows the elimination of a speed oil plant, the linkages between the various control and hydraulic power systems.
The investment is quickly paid for the system's reliability (reduction of tripping) and the cost of  maintenance.
QuickTrip
QuickTrip is an electro-hydraulic trip unit, IEC61508 certified, designed for use in steam turbine shutdown systems for fast and relibale discharge from the turbine trip oil manifold.
505 D
505XT
FLEX500
ProTech-GII / TPS / MSM